An X-Ray Machine offers a simple solution for security personnel to scan the interior of bags and other items. X-ray baggage scanner machine befits perfectly for a quick and thorough inspection of baggage and other materials. The transmit rate is highly accurate and has a hundred percent detection rate. It can efficiently detect potential dangers such as knives, explosives, and other suspicious objects that might be harmful to human lives.
Our high-Quality X-Ray Baggage Scanners come with many advanced functions, which make them highly desirable at various sensitive places. They are also capable of detecting organic and inorganic items such as weapons, explosives, and narcotics. Our Portable Baggage Scanning machine works by combining the latest software and hardware technologies. This provides superior image clarity, resolution and processing power.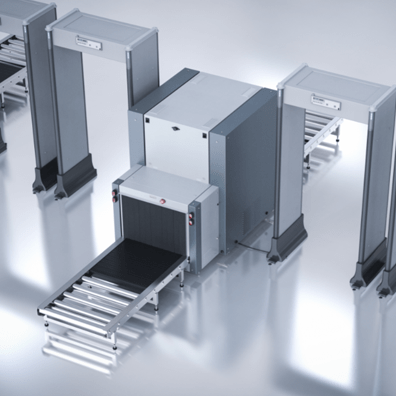 How Baggage Scanner Works
The baggage X-Ray Machine is contrived of a screen and conveyer belt that helps in detecting a wide range of threats in the baggage. The screen displays vertical and horizontal images_new with the help of two independent generators. it can even detect organic, inorganic, light metals, and mixtures based on the atomic number of the objects. It symbolizes organic materials such as food, paper, and explosives in orange color, metals in blue, and glass in green. The display will show a darker color for denser material. The X-Ray Baggage Scanner can be connected to a Local Area Network (LAN) in order to connect with the database for checking. It is also helpful in multi-terminal checking simultaneously.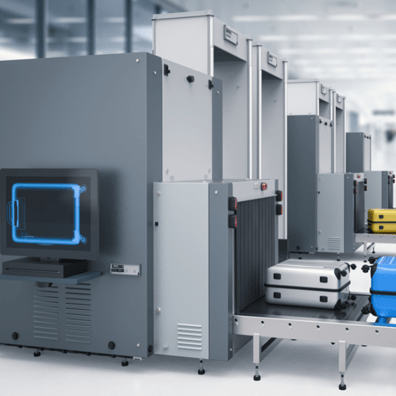 What Are The Benefits Of X-Ray Baggage Scanners?
You can keep a check on random baggage and detect any suspicious objects and can keep away the prohibited items from any crowded or public place.
The safety perception of the visitors also increases with the baggage scanner.
This equipment is very mobile, safe to use, and user-friendly.
The x-ray images_new produced are very sharp and clearly display what is inside the bag.
One can check the images_new from various viewing angles.
Hidden items are also easier to trace that are packed at the side of the suitcase.
A faster passage can be offered with a baggage scanner.
A professional operator isn't required 24 x 7, only personnel that can keep a check on the bags.
Usually, there is no need for rechecking the bags and in the first check, the material in the bags can be optimally viewed.
One security personnel can't check multiple bags simultaneously, but with an X-Ray baggage scanning machine, this can be done easily.